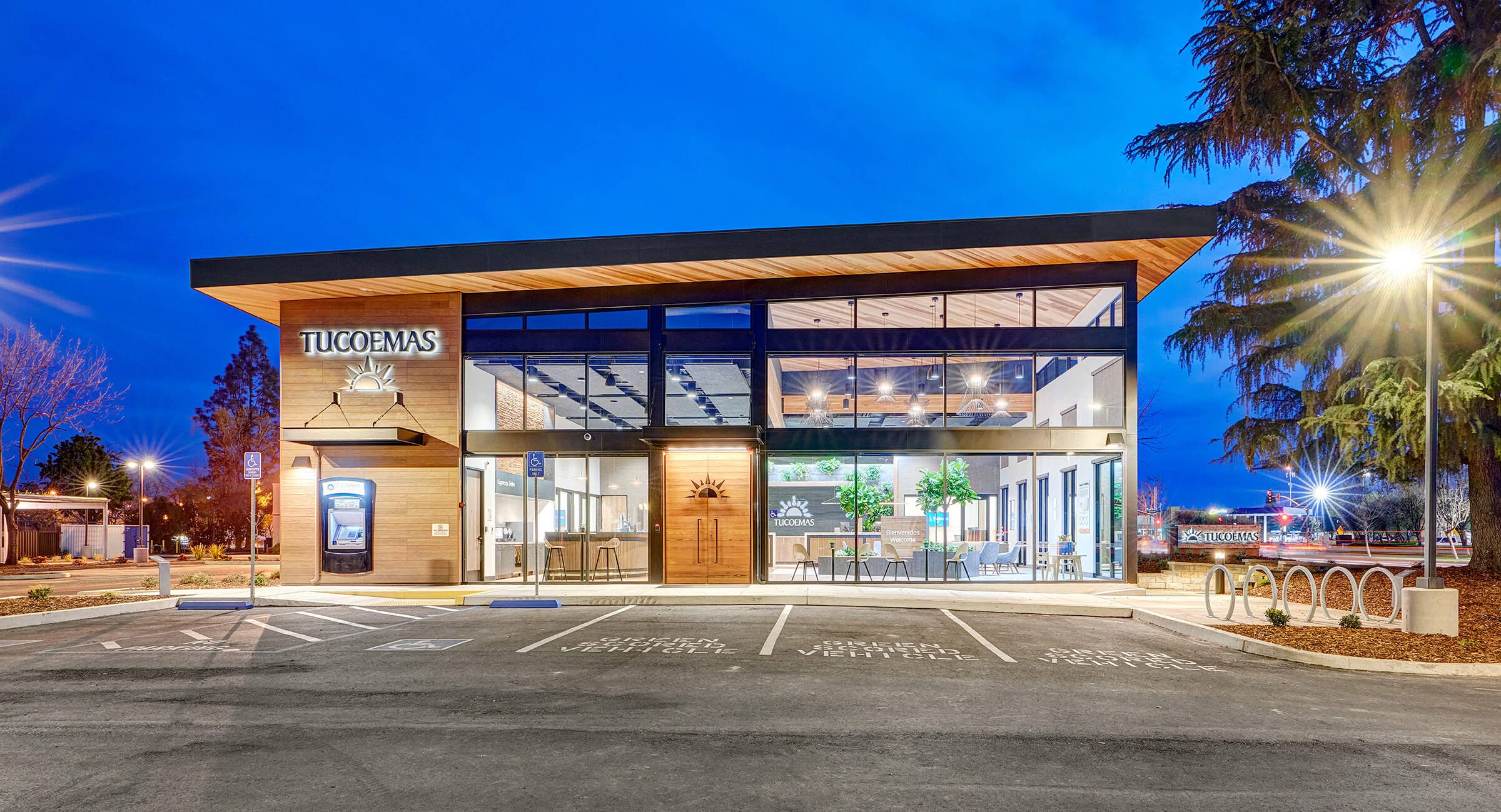 View Gallery
Leading with LEED Gold
Visalia, CA
Tucoemas sought a highly sustainable branch and executive suite, certified through the U.S. Green Building Council (USGBC) rating system as a Leadership in Energy and Environmental Design (LEED) Gold Certified Building. They also had an extensive wish list for their new-build project, including a soaring open space to welcome members, training rooms, a sophisticated board room, an espresso bar, and a commercial kitchen.
Our dedicated team of designers and construction professionals set out to achieve their diverse objectives which included:
Exceptional Efficiency: The environmental benefits of a sustainable design include less water consumption, reduced electrical use, and better air quality. Sustainable features included low-flow fixtures, native landscaping, solar panels, highly efficient HVAC system, well-insulated building envelope, and a solar reflective roof.
Exceptional Environment: A connection with nature was established throughout the building with interior trees, a plant-filled, living wall, plentiful natural light, and natural finishes. Green elements serve as a symbolic nod to the credit union's credo: "rising together, anything is possible," and showcase the Tucoemas logo centered on the feature wall.
Exceptional Investment: There also are financial advantages associated with sustainable designs. Thanks to the water and energy efficiency of the new branch, a complex, state-of-the-art HVAC system, thick insulation, and more, Tucoemas is on track to realize a return on their investment in just a few years.
High ceilings, tall windows, and exposed beams created a striking first impression, but less visible details produced the LEED compatibility, function, and appeal that our client envisioned. No detail was spared to create an airy, efficiently functional corporate campus with a connection to nature that supports the physical and emotional well being of members and employees at Tucoemas.
IBG understood why we were doing what we were doing and really dove in head first to navigate all of the complexities of building a LEED-certified building.
Brice Yocum
CEO, Tucoemas Federal Credit Union